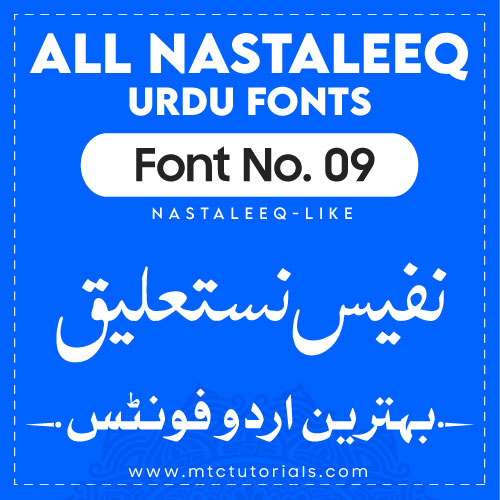 Version

09

Download

94

File Size

30.97 KB

File Count

1

Create Date

September 21, 2023

Last Updated

September 21, 2023
Nastaleeq Like Urdu Font
Nastaleeq Like Urdu Font. 'Nastaleeq Like' is a font style that emulates the aesthetic and calligraphic features of the traditional Nastaleeq script. It is designed to provide a similar look and feel to Nastaleeq while offering enhanced readability and compatibility in digital environments.
Nastaleeq Like Urdu Font Free Download
With its balanced letterforms, intricate ligatures, and graceful strokes. Nastaleeq Like captures the essence of the Nastaleeq script while adapting to the requirements of modern technology. This font style enables users to present Urdu text in a visually pleasing manner without compromising on legibility. 'Nastaleeq Like' is widely used in a variety of applications, including websites, documents. Digital publications, to bring an authentic touch of Nastaleeq to the digital realm.
Related Links